How to check the battery level of my Wi-Fi camera? Follow
This applies to SWIFI-CAM, SWIFI-CORECAM, SWIFI-COREPRO, SWIFI-XTRCAM, SWIFI-BUDDY, SWIFI-MOTION, SWIFI-LEAK, SWIFI-WDOOR, SWIFI-SIREN.
There are 2 ways:
When the LED is:

Dim than normal (for sensors)
Blinking purple (for SWIFI cameras)


If the camera status is Connected or online and paired, open the Swann Security app.

Go to the Devices.
Tap on the device's name.
Under Device Information, look for Battery or Battery Level.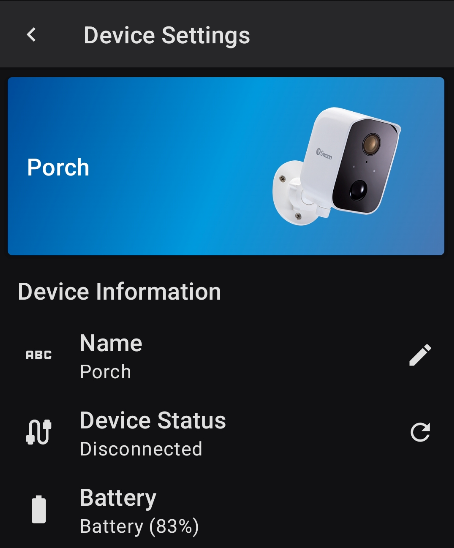 Note: If the Device Status is Disconnected, the battery level shown is the last that was synced to the Swann Security server and your phone before the camera disconnected. This means the current battery level cannot be seen until the camera is recharged and reconnected to the network.