What router WiFi frequency band is my SWIFI camera compatible with: 2.4GHz VS 5GHz Frequency? Follow
Some routers have one or both 2.4 GHz Wi-Fi and 5 GHz Wi-Fi. The terms 2.4 GHz and 5 GHz refer to frequency bands used by wireless routers to carry Wi-Fi signals.
Frequency
2.4 GHz
5 GHz

Pros

More range

Better reliability through walls and obstruction

Faster

Less susceptible to interference

Camera Model

All SWIFI camera models use 2.4 GHz.

None
One way to tell if the phone is connected to the correct frequency of the router is by checking the name of the SSID: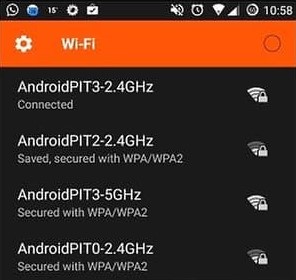 2.4 GHz network may have "24G," "2.4," or "24" appended to the end of the network name. For example: "TP-LINK_849E_24G". This is the network you need to select.
5 GHz network may have "5G" or "5" appended to the end of the network name, for example, "TP-LINK_849E_24G".
If you see two or more Wi-Fi network names that belong to you without 24 or 5, then one may be a 5 GHz band. To identify which name uses 2.4 GHz or 5 GHz:

Log in to the router's settings (contact the manufacturer of your router or your Internet Service Provider if you do not know).
Go to Wireless settings and look for 2.4G and 5G to see the network names.

If you see a WiFi name that ends with _ext, it is most likely a WiFi extender.
To avoid connecting to 5GHz during pairing, forget the 5GHz connection:
Android
iPhone/iPad

Tap Settings.
Tap Connections.
Tap Wi-Fi.
Tap and hold the Wi-Fi to remove > Forget network.

Go to Settings > Wi-Fi.
Tap next to the Wi-Fi network that you want your device to forget.
Tap Forget This Network, then tap Forget to confirm.