Estimate how many days of recordings your recorder can save Follow
NOTE: This guide is for the following recorders : DVR-4480G, 4480RN, 4480V, 4580G, 4580RN, 4580V, 4680, 4680RN, 4680A, 4680X, 4680XN, 4685, 4685RN, 4780V, 4980, 5580, 5580A, 5580G, 5580G2, 5580RN, 5580RU, 5680, 5680A, 5680RN, 5680X, 5680XN, NVR-8580, 8580RN, 8780, 8780RN, NVW-650, 800
If your recorder has been on for at least a month, the fastest way to gauge the number of days is to login to the DVR/NVR/NVW:
Via TV/Monitor: Go to Menu > Search > General > Date > dates underlined in red have recordings
In this example for 1 camera, there are 15 days of recordings stored.

The number of days will depend on how many cameras you have along with other settings. 
Calculate days
In order to calculate the number of days accurately, do the following:
Login to the recorder's Main Menu via TV/monitor.
Take note of the Video Standard or Video Format used. Go to System > General (tab).

Take note of the total hard drive capacity. Go to Device > HDD (tab). E.g. Total capacity is 931G.

Take note of the Recorder Schedule

per channel/camera

. Go to Record > Record Schedule. Is it Normal (continuous 24/7) or Detection?
Take note of the number of channels with cameras where Record is enabled. Go to Record > Record (tab). E.g. There are 8 cameras.

Take note of the resolution, frame rate (fps), and bitrate (Kbps)

per camer

a

. Go to Record > Mainstream (tab). E.g. All 8 cameras have the same 1920x1080 resolution, 15 FPS, and bitrate of 4096 Kbps.

Once you have all of the information above, go to this third-party website: HiTools Designer:  Storage and Bandwidth Calculator for the online calculator.
Example 1 of Calculation: 
Using HiTools Designer:  Storage and Bandwidth Calculator, click on Add. The 8 cameras and information from above were entered once as follows:
No. of Channels: 8 
Video Standard: PAL
Encoding Mode: H264 is the default.
Resolution: 1920x1080
Frame Rate: 15
Bitrate: 4096
Disk Space: 931 GB
Recordings per Day: 4 hrs (since the Recorder Schedule is set to PIR+Motion by default for ALL channels)
Result: 15 days or 2 weeks.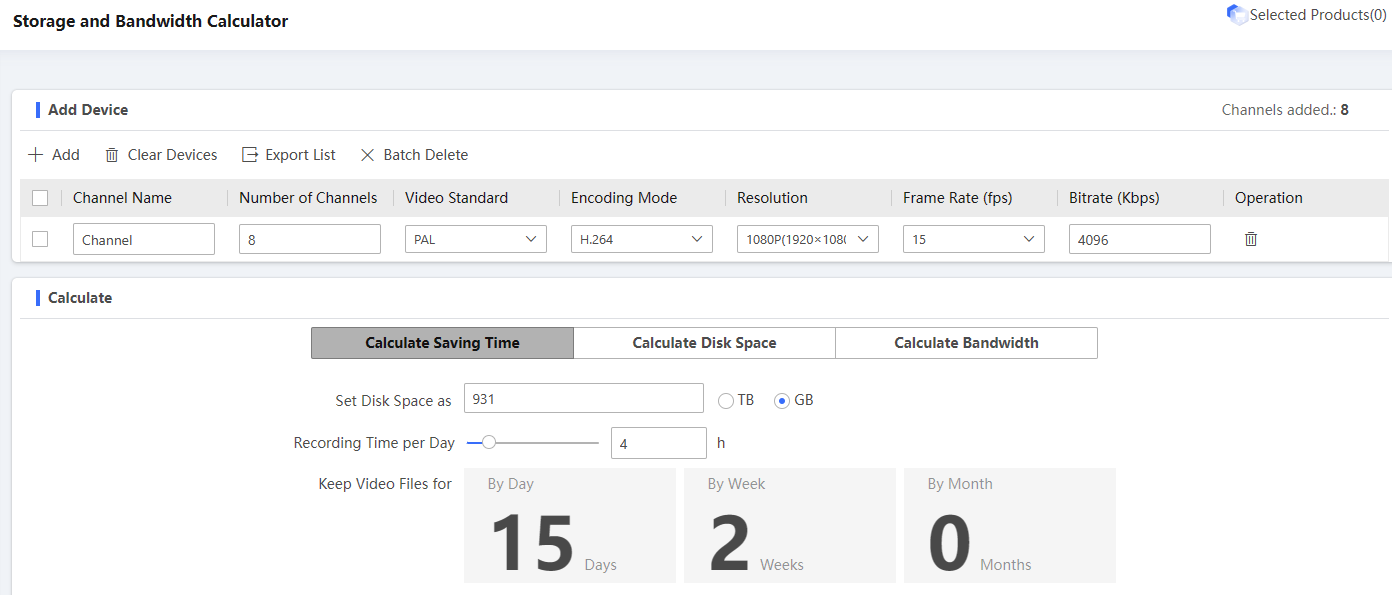 Example 2 of Calculation: 
Using the same calculator but different camera settings, the result is different. For instance,
Only 4 cameras have the same settings as in Example 1.
4 cameras have different bitrate.
Result: 20 days. Lowering the bitrate per camera extends days of storage without reducing the video resolution of the cameras.