How to Set Up 24-hour continuous recording for a Camera Follow
Continuous recording is possible for some Swann products. Please see the info or steps based on the type of product you have below:
DVR / NVR Recorders with an internal hard drive
By default, a 24-hour 7 days a week, motion detection is enabled for each camera
connected. For example:

Normal (continuous) recording (green boxes) can be enabled at the same time as motion detection (yellow boxes).
To set up the camera for continuous recording, login to Menu > Setup.
Go to Record > Record Schedule.
Select the camera you want to enable continuous recording by channel number.
Select the desired recording mode via radio button (which is Normal).
Then click on a particular black square on the grid to change the colour from black to green. To select all, click and drag the mouse over the squares corresponding to your desired time period.
Click "Apply" to save settings.
Use the "Copy" function to apply all settings to the other cameras you want to record continuously.
NOTE: Setting one or more cameras to continuous recording will decrease the days of storage for recordings in your hard drive. To know how many days of recordings, your DVR/NVR can currently store, go to Menu> Search > General (tab). Click on the Date calendar. The number of days in red are the number of days the oldest recordings are stored for. For example: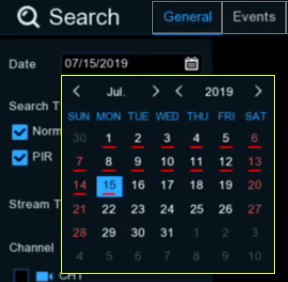 DVR / NVR Recorders with a microSD card only
DVRs or NVRs that come with micro SD card only will not be enough for the requirement needed for Normal or Continuous recording to work.
The recorder must have an internal hard drive with more than 1TB storage capacity.
Standalone Cameras
Standalone Swann Security WiFi cameras record based on motion detection 24 hours, 7 days a week while they are still running on sufficient battery or power. These types of cameras do not have the hardware capacity to record continuously 24-7 when there is no motion nor power.
Once an event is triggered, the camera will record for up to 60 seconds, depending on motion. In an event that there are still movements, it will record to another file.