Swann Security App pairing error for SWIFI camera: Error: Unable to verify connectivity (Android) Follow
NOTE: This guide is for the following cameras: SWIFI-CAM | SWIFI-ALERTCAM | SWIFI-SPOTCAM | SWIFI-FLOCAM2 | SWIFI-XTRCAM | SWIFI-BUDDY | SWIFI-FOURTIFY | SWIFI-TRACKCM | SWIFI-PTCAM2SWIFI-CORECAM | SWIFI-COREPRO | SWIFI-2KICAM | SWIFI-2KOCAM | SWIFI-4KFLOCAM | SWWHD-INDCAM | SWWHD-OUTCAM | SWWHD-FLOCAM
This guide applies to the exact error message "Unable to verify connectivity". It is not the same as "Error: Unable to verify connection status" (Android) which has different troubleshooting steps.
This error "Unable to verify connectivity" appears for one or more of the following reasons: 

The communication between your router and the Swann Security server is latent and needs refreshing.
You are trying to pair your camera via WiFi extender instead of a router.
The WiFi frequency band of your router's SSID is NOT 2.4.
To resolve this error, you do NOT need to unpair the camera. Do the following steps in order: 
1. Reboot your router
How:
Go to the router. Use the OFF/ON button, if any, to turn off and restart, Unplug the router from power and replug if there is no power button.
After the router is ON and re-established connection with your Internet Service Provider (which takes 2-5 minutes).
Proceed to reboot the camera or set to pairing mode after 2-5 minutes.
2. Connect your phone to the correct SSID (Wi-Fi credentials)
If you are not sure of your router's WiFi name or which SSID to use, please contact your Internet Service Provider or router manufacturer for assistance before proceeding.
To ensure your phone stays connected to the correct SSID, disconnect your phone all Wi-Fi first: 

Tap Settings in your Android phone.
Tap Connections.
Tap Wi-Fi.
Tap and hold the Wi-Fi to remove > Forget network. Repeat for other Wi-Fi names.

Tap on the WiFi name to reconnect. If you have 2 WiFi names, select the one that ends in 2.4. The camera is not compatible with 5GHz WiFi frequency.
Then proceed to Pair Device in Swann Security app. Click on the Eye icon under "Please enter password" to view what you typed.
3. Factory reset the camera to pairing mode
To set the camera to pairing mode, the camera needs to be factory reset. (This can only be done if you have physical access to the camera). 
Go to this link and choose the page associated with the model of your camera: How to hard reset your SWIFI camera. If you do not know the model of your camera, see How to get your Swann product model, P2P or UID, MAC address or ID, Serial Number (S/N), and Software/Firmware (FW) version?
If the camera is rechargeable, ensure the camera has been charged for a number of hours before you begin.
Perform the hard reset as instructed in the article.
If you have factory reset the camera properly, the LED indicator should be slow blinking blue.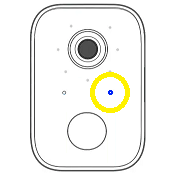 3. Check if the camera's hotspot name or access point (AP) is visible
All SWIFI camera models should have a hotspot name that starts with "Swann-SWIFI-xxxx" while it is in pairing mode. 

Tap on Start.
If you have done all of the steps above thoroughly and in order but you still get the same error, contact Technical Support and provide ALL of the following information for assessment:
4. If you get a different error, check our Support Center for the specific app error
Click on this link: Swann Security app errors