NHD-1200D/DE/BE: Which NVR is compatible? Follow
The NHD-1200D/DE/BE cameras work with NVRx-8580RN or NVRx-8780RN; but NOT with NVRx-8580 or NVRx-8780. Like many other companies that are affected by the Global electronics chipset shortage, Swann were forced to use a different chipset to continue the 8580/8780 series whilst keeping the same features and overall performance as the previous chipset. Unfortunately the previous chipset used in our NVRs is not able to decode 12MP video streams and therefore is not compatible with our new 12MP camera range.
PLANNING TO BUY NHD-1200D/DE/BE?
If you are planning to buy an NHD-1200D/DE/BE, check first the exact model number of your recorder first. There are 2 ways to do that:
STICKER
Check the sticker underneath the recorder and you should find your model number. The compatible NVR as stated above are 8580RN and 8780RN. Sample sticker below is an NVR8-8580RN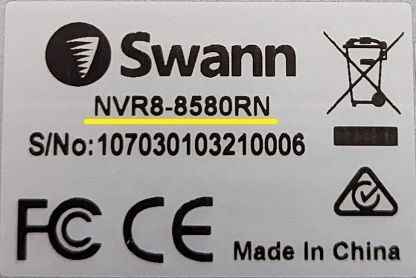 SYSTEM INFO
Access the Menu then go to System > Information and look for Device Type. The compatible NVR as stated above are 8580RN and 8780RN. Sample sticker below is an NVR8-8580RN