Installing an additional Internal Hard Drive (HDD) for 16-channel Recorders Follow
NOTE: This guide is only applicable to Swann 16-channel recorders.
Your NVR supports recording to either a 3.5" SATA or a 2.5" SATA hard drive. The largest hard drive you can connect is 8TB (terabyte) for a total storage space of 12TB. We recommend purchasing a hard drive that is surveillance rated, such as the Western Digital Purple™, Seagate Skyhawk™, or Toshiba Surveillance range of drives.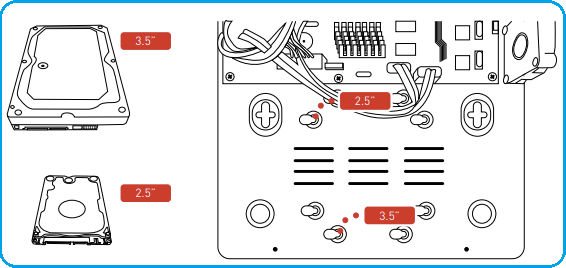 How to Install - Step by Step Guide
Position the NVR on a flat surface and use a Phillips head screwdriver to remove the screws securing the case. These screws are located underneath, on the left and right sides, as well as at the rear of the NVR.
Once the screws are removed, flip the NVR over and carefully open the lid, starting from the rear. Be cautious not to fully detach the lid, as there are data cables connected to the front USB ports and LEDs.
You will find eight mounts available for attaching the hard drive to the NVR. Four mounts are designed for a 3.5" drive, while the remaining four are for a 2.5" drive. To secure the hard drive, hold it in place and gently lift the NVR to a 90-degree position, then fasten the four screws into the hard drive.

Tip:

Avoid over-tightening, ensuring that the hard drive is securely attached.

Connect the power and data (SATA) cable to the appropriate connections on the hard drive.
Place the lid back onto the NVR, paying attention to a plastic groove located at the rear of the lid. Make sure that the grooves on each side of the lid slide into the corresponding metal chassis when closing it. Finally, fasten the remaining screws to complete the installation.
Tip: To start using the hard drive, you need to format it first (see page 108 of the User Manual).