Can a PRO, NHD, or NVW camera be connected directly to a TV or monitor? Follow
Current Swann PRO, NHD, and NVW cameras are NOT capable of providing a direct live feed to a TV or monitor without a DVR, NVR, and NVW respectively.

For more information, go to this link: Are all Swann cameras compatible with any Swann recorder?
Reason for PRO- cameras
Most TVs and monitors predominantly have HDMI ports while the RCA and BNC or coaxial ports were phased out. The Coaxial/RF connector on the back of older TVs is meant for an antenna or cable box from TV service providers. This connection requires a screw-on RG-6 or RG-59 cable. Even though a Swann PRO- model camera cable uses an RG59 connector, the camera was designed to work with a compatible Swann DVR model for optimum live view, recording, configuration, etc. Connecting a Swann PRO- model directly to your television is not recommended and is not supported.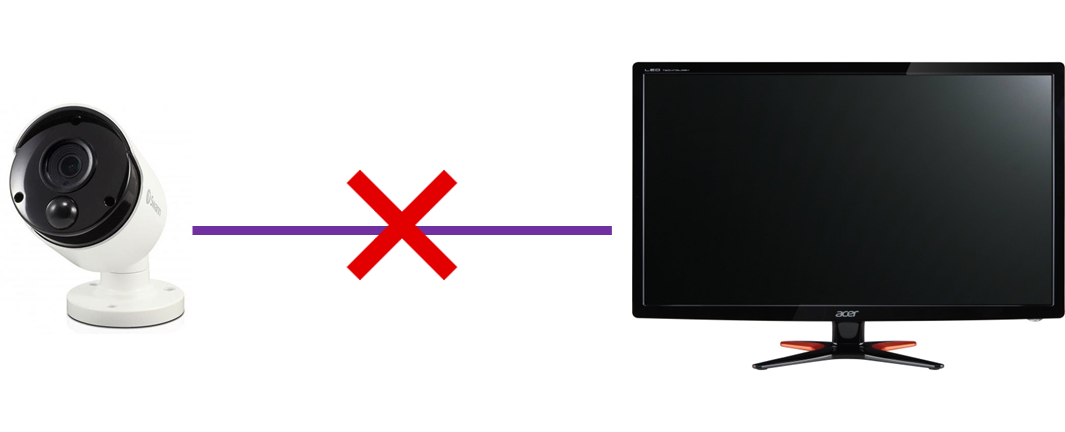 Reason for NHD- cameras
The ethernet port on the back of a smart TV or a desktop computer/laptop is for internet connectivity. NHD cameras come with an ethernet cable for video and audio. They will not function without a compatible NVR.
Reason for NVW- cameras
For the same reasons as above, TVs and computers with WiFi are for internet connectivity. NVW cameras can connect to a router in station mode, but they still need a compatible NVW recorder for recording and viewing functions. 
For recorders compatible with your camera, you can search for the camera model at Swann.com, go to its product page, then click on "View compatible products".
If you cannot find your camera model at Swann.com, you can ask our Pre-sales team via Chat.