Setup Cloud storage to V8 recorders Follow
NOTE: This guide is for the following recorders : DVR-4480G, 4480RN, 4480V, 4580G, 4580RN, 4580V, 4680, 4680RN, 4680A, 4680X, 4680XN, 4685, 4685RN, 4780V, 4980, 5580, 5580A, 5580G, 5580G2, 5580RN, 5580RU, 5680, 5680A, 5680RN, 5680X, 5680XN, NVR-8580, 8580RN, 8780, 8780RN, NVW-650, 800
Swann Security DVR and NVR V8 recorders now have the feature to save images or recordings through Cloud via Dropbox which might be more accessible to you without being on the unit itself. 
A couple of things to prepare:
Make sure to have a Dropbox account ready. If you don't have one, visit Dropbox and register first.
Then make sure your recorder is connected to the internet. Not having this will obviously not send the recordings on the Cloud or even give you access online.
Setup
On Swann Security app, go to Menu > Dropbox.
Choose your recorder that you want to setup.



It will open Dropbox app or Dropbox website will open (depends on what you have) – make sure you are logged in to the Dropbox account where pictures or videos will be saved.



Allow – choose this to allow Swann Security to gain access on Dropbox.
COMPLETE! – it will go back to the Swann Security app once you chose Allow. Tap again the recorder and this message (image at the right) should appear.
In case it repeats step 3, just cancel it or go back, then you'll see this message (image at the right).

Enable Cloud Notification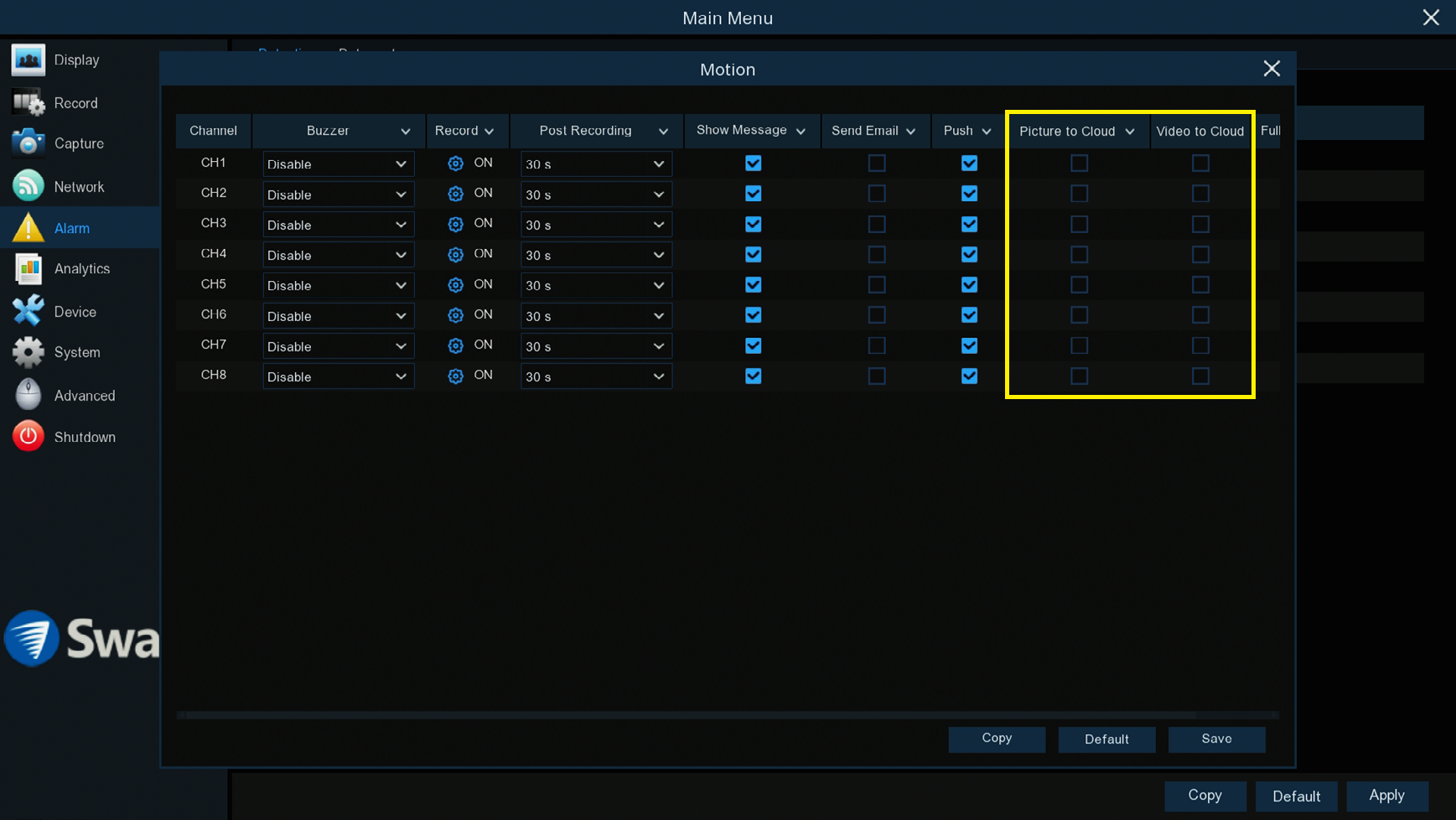 Go to Menu > Alarm > Detection
Click on Action
Enable Picture to Cloud or Video to Cloud on selected Channels.
...and you're DONE! Now every time the recorder detects movement, it will then send it to your Dropbox.
Be aware of the following:

Default (Basic plan) Dropbox storage has limited storage space. (for more Dropbox cloud storage, see Dropbox.com/plans)
Not all channels can be selected to upload video
Uploads to Dropbox consume upload data, be aware of potential additional charges when using an internet connection with caps/data usage charges
Consider using the Overwrite option to select a timeframe that the Cloud storage uses, to keep the storage from filling up. Note that if the storage fills up before the Overwrite deadline, that it will operate the same as Auto
Be aware that a desktop PC with the Dropbox software installed may download any recordings to the Dropbox folder on that PC