Export recordings to a USB (Swann Security) Follow
NOTE: This guide is for the following recorders : DVR-4480G, 4480RN, 4480V, 4580G, 4580RN, 4580V, 4680, 4680RN, 4680A, 4680X, 4680XN, 4685, 4685RN, 4780V, 4980, 5580, 5580A, 5580G, 5580G2, 5580RN, 5580RU, 5680, 5680A, 5680RN, 5680X, 5680XN, NVR-8580, 8580RN, 8780, 8780RN, NVW-650, 800
Connect the flash drive to the unit
Ensure that you use a USB stick or flash drive (not external HDD) that has a capacity of 32GB or lower.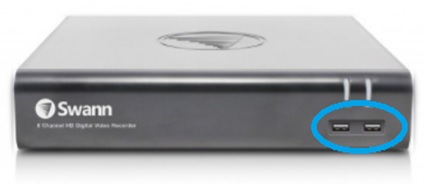 Search for recordings
From the Live feed, right-click then select the Menu icon and go to Search.

At the top, make sure you are on Events
Choose a date you wanted to search by clicking the small calendar icon then select a date.

Set a time range OR you can leave it from 0:00:00 to 23:59:59
Choose a File Type (Best to leave everything checked).
Choose a Stream Type (Best to leave it on Mainstream to get the highest quality possible).
Select a Channel by ticking the checkbox.
Click the Search icon.

Exporting recordings
Choose a file– tick the checkbox to select a file. Note that there are 3 types on how files can be viewed.

Thumbnail – sample photo; first icon at the lower right
List – second icon
Detail – last icon

Click Backup.

Choose a Backup type - to ensure that the footage will be easily playable on a PC, choose either AVI or MP4.
NOTE: Keep in mind the total size shown below and the capacity of the flash drive you are using.
Click Save.

Click on OK - by default, it will be saved on the root folder of the flash drive. You have the option to choose a specific folder if you prefer.